The German language around the world
German is one of the most widely spoken languages in the world. An estimated 100 million people worldwide have learnt German in their lifetime. Add to that the 128 million native speakers of German, and it makes the language one of the 10 most important languages in the world.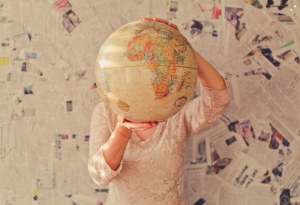 In view of increasing globalization, fluent communication is of great importance in the world of business. At the present moment, Germany is the largest national economy in Europe and the fourth-largest in the world. However, even without direct trade relations with Germany, German is frequently used as a lingua franca – a common language – in business dealings.
The language itself is shaped by the strong influences of the Roman Empire, meaning there are many connections to Latin. Approximately 21% of German nouns were originally foreign words that now enrich its vocabulary, like the many so-called anglicisms taken from English. In their free time Germans pursue their Hobby, perhaps going to a Fitnessstudio to work out while, in the world of work, Brainstorming is a widely used way of collecting ideas.
In the same way, German also influences other languages, something that can be seen in kindergartens across the US, while the English word doppelganger, meaning a person with a striking resemblance to another, unrelated person, is taken from German, too. When Swedish speakers want to describe a sensitive, attentive way of dealing with people or objects, they recourse to the German word Fingerspitzengefühl, which literally means a 'fingertip feeling'.